INSTRUCTORS > MIRA MUTKA BIOGRAPHY


Mira Mutka
Senior Member of the Klein Technique™ Certification Program, Stockholm, Sweden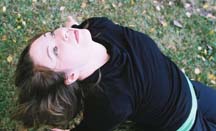 Mira Mutka was formally educated in Sweden and holds a degree from the Dance Teacher's Department at the University College of Dance in Stockholm, Sweden and is now continuing her education as a Masters student in choreography at the program New Performative Practices, The University of Dance and Circus in Stockholm.
Mira is a choreographer, dancer, and teacher. She works as a freelancer mainly through dannkorn choreography and dance and is a founder/ artistic director of kompani 2 with Jannine Rivel in Eskilstuna, please see www.kompani2.se.
Klein Technique™ is a major part of Mira's dancing, moving, artistic and teaching life since 2001. She has participated in classes and intensive workshops with Susan Klein and Barbara Mahler in Sweden, Finland, Denmark, and with Susan Klein in Germany, Spain and the US.She regularly attends classes in Klein Technique™ in Stockholm with Karin Munters Jameson, a Certified Klein Technique™ Teacher.
In August 2004 she formally joined the Second Klein Technique™ Teacher Certification Program and is now a Senior Member of the Teacher Certification Program in Klein Technique™.
Mira Mutka: mira@kleintechnique.com
www.miramutka.com