Klein Technique

™

Class Schedules

Beach Street Studio Schedule

10:30 am
12:00 pm

Stretch &
Placement
Susan
3:30 pm
5:00 pm

Stretch &
Placement
Ted Johnson

Stretch &
Placement
Susan
NEW CLASS!
Ted Johnson teaching Klein Stretch and Placement Class starting Monday, January 23, 2017 at 3:30! Click to see Ted's Biography.

For daily class updates check FACEBOOK / KleinTechnique
Occasionally classes are cancelled for major holidays or when the instructor is teaching out of town.
FACULTY: Susan T. Klein, Fabio Tavares Da Silva, Johanna Hegenscheidt, Jorge Martinez, Stephanie Miracle, Karin Munters Jamison, Sara Murphy Salvatti, Susanna Nurminen, Jannine Rivel.
FEE: $20.00 per class. Classes are open to all and there is no registration fee.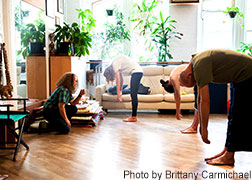 We welcome movers of all levels to take class and all classes are of mixed levels. Each student works at his or her own level within the structure of the class. The school is set up so that there are no courses with a beginning and an end. The classes, like the body, are opened ended in discovery. Once a student begins to come to class regularly the teacher will become familiar with an individuals learning style and he/she will start interacting more directly with the student. Each person works at his or her own level and pace as part of a group.
DIRECTIONS:Take IRT #1 train to Franklin Street, any 8th Avenue train to Canal Street, or the #6 train to Canal Street. Walk West to 60 Beach Street, between Hudson and Greenwich Avenue. Ring "Klein", take the elevator to the 4th Floor and WELCOME!
Click for upcoming Courses and Workshops.
Sign up on the mailing list: info@kleintechnique.com