INSTRUCTORS > STEPHANIE MIRACLE BIOGRAPHY


Stephanie Miracle
Certified Teacher of Klein Technique™
College Park, Maryland / New York, NY, USA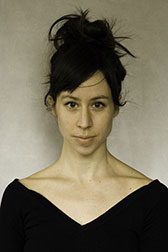 Stephanie Miracle is a choreographer, performer and teaching artist currently based in the DC area. As a performer she has had the privilege of dancing for Deganit Shemy, Shannon Gillen & Guests, Laura Peterson, David Dorfman, Joseph Poulson, Susan Marshall, Liz Lerman Dance Exchange, Graham Brown, PEARSONWIDRIG, and Deborah Hay. She is greatly influenced by the work of her mentor Susan Klein.
As a dance maker she has created works for bus stops, woman's prisons, hallways, staircases, outdoor spaces and traditional theaters. Her dance film, "chloes", created in collaboration with Lea Fulton and videographer Greg King, was selected as part of the 2009 Dance on Camera Festival at Lincoln Center. In 2011, she choreographed a inter-generational work called "Recollecting Disappearing", with a commission of the MetLife Healthy Living Initiative at Dance Exchange. She was selected at one of 9 international artists to attend OMI International Artists Residency 2012. In January 2013 she premiered a new work as apart of the 2012 - 2013 season at Dance Place.
Stephanie is currently a Teaching Fellow and MFA in Dance Candidate at the University of Maryland, and a certified teacher of Klein Technique™.
Stephanie Miracle: stephanie@kleintechnique.com